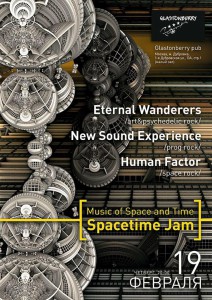 Dear friends! This idea came spontaneously before the New Year holidays – to organize a concert free from any musical genre and style, to gather bands united with inspiration, creative flight and positive energy.
The participants of the mini-festival are rock bands who have been performing for a long time, who love music, play it with unfading drive, and they want to share this drive with you. There will be quick passages, solo and broken rhythms (New Sound Experience), vocal-keyboard-guitar canvas (Eternal Wanderers), psychedelic riffs and dance vibrations (Human Factor), video series.
And we decided that the atmosphere of the party must be joyful and positive! Therefore, there will also a jam – a spacetime jam!
Meeting place: club Glastonberry pub.
Address: 13A, building 1, 1st Dubrovskaya str., Moscow.
Entrance: pay what you want.