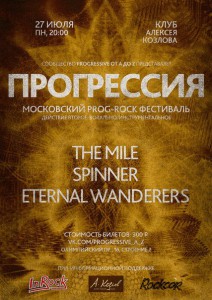 On July 29th 2015 at Alexey Kozlov's club (Moscow) will be the second day of "Progressiya" prog fest with the bands Eternal Wanderers, The Mile, Spinner.
The festival will start at 8:00 p.m.
Meeting place:
Address: 16, building 2, Olimpiysky prospect, Moscow
Entrance: pay what you want.
See you at the fesival!