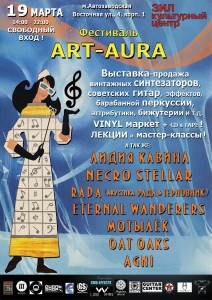 On March 19th Eternal Wanderers will perform at ART-AURA festival, which will be held in Moscow, ZIL Cultural Centre. ART-AURA is a multi-genre musical festival, including:
- the exhibition hall where visitors will see the exhibition of Soviet, foreign, modular and custom-made synthesizers, drum machines, theremins and sound effects, the exhibition of Soviet, collection Japanese and American guitars, semi-acoustic guitars, travel-guitars, guitar equipment, drums, percussion and many others;

– the concert hall where bands of diverse music styles will perform during the festival.
See you at the festival!